Adapt. Refine. Improve.
Think you can Evolve? Prove it. Don't Just exist, Evolve. Adapting, refining, improving, evolving. Evolution Fitness the natural selection. Transforming the ordinary to the extraordinary.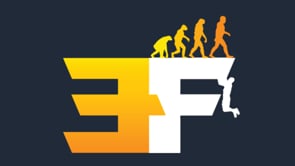 Why
Choose
Evolution
Fitness?
Our passion is to help our clients exceed their goals! With multiple classes throughout the week and a town centre location, there's always an opportunity to work towards your fitness evolution. Our smaller class sizes and scaleable programme also means we can cater for all levels of fitness and work closely with you on your progress.
Multiple Membership Options
We know that our members have busy lives. What works for one person may not for the next and with that in mind we have tailored our membership options to suit your needs.
Small Groups & Great Community
Smaller groups make for a much more personal service, meaning we are able to support you more closely. We're also very proud of the welcoming community that has developed among our members.
Unrivalled Coaching
Our coaches have a huge wealth of industry knowledge and experience working to help clients achieve their absolute best.
What Our Members Say
Charlotte Meadows
November 26, 2021.
I've been coming to Evolution Horsham for just over a month now and I absolutely love it. I had wanted to give crossfit a go for some time, but I was always too intimidated by how super-fit everyone was! I eventually reached out to Evo and they were so friendly and approachable, I joined a session and immediately loved it. It's hands-down the most friendly gym community I have ever experienced, and the coaches Sam and Liam are just amazing. I love how everyone claps and cheers each other on. My only regret is not joining sooner.
Colm Doherty
November 13, 2021.
I joined Evo at the end of July 2021. I've been to so many gyms over the years but Evo just has the balance absolutely spot on. The coaches are kind, methodical and very talented. There can sometimes be anxiety joining a new gym, especially a CrossFit gym, but we joined a beginners course and felt really looked after and prepared by the end of the four week period. The workouts are challenging and fun, but also accessible for all abilities. I also joined up for the nutritional planning and have lost almost 10kg in a few short months. Every weigh in comes with a feeling that the coaches are really wanting you to succeed and you have their support and advice at every turn. But the best thing about Evo is the amazing community that it has fostered, genuinely nice people who all want everyone to succeed. I've never been to a gym where anyone's personal achievements have been applauded and high-fived, where everyone waits for the last person to finish the workout, cheering them all the way. It's a supportive, positive and safe environment within which you can prioritise your health and well-being. I'm so glad I made the decision to sign up.
Sarah Harvey
September 19, 2021.
I have recently joined Evolution Fitness, I have been interested for a while but felt intimidated by all of the very fit looking people who come in and out of classes. When I saw advertised a beginners 4 week class I didnt hesitate to sign up. Sam and Liam have been amazing in talking me through and demonstrating the techniques of the lifts and they have both been so encouraging and supportive. Not only this, the members have been so friendly and supportive too during sessions. I am so glad I overcame my fear and joined the beginners course. I would highly recommend Evolution Fitness to anyone thinking of joining.
I dropped in as a guest here for open gym and really enjoyed my visit. It was a friendly, hard-working atmosphere and the coaches made me feel very welcome. Very clean too. Would visit again for sure!
Great coaches, great people, full of enthusiasm and having fun, whilst pushing me to do better. Thoroughly recommended!
Wyndham Clark
July 2, 2021.
It's not just a gym, it's an experience. Really friendly, great instruction, great work-outs and challenging - but in a good way. Great location (on a farm) and what I love is the absence of mirrors and preening! 100% recommend it.
Couldn't ask for more. The coaches are on point with all their fitness and nutritional help. It's completely inclusive for all levels and its such a friendly and fun atmosphere. I've been able to push myself and achieve things I never thought I could. Best decision I made joining Evo 🙂
Caitlin Wells
July 1, 2021.
I have been training with Evolution Fitness since October and have noticed my strength, technique and physique all improve. The support you receive from the two amazing coaches and all other members is second to none, giving you the motivation and determination to try your hardest without any judgement. I have been a constant gym bunny for years but have noticed results from Evo in a much shorter time frame. I would highly recommend Evo to anyone with any level of fitness... we work hard, but we play even harder!
Calum Yeates
July 1, 2021.
What makes this place better than other functional fitness gyms in the area, is not only the top quality coaches or value for money, but the community. It doesn't matter what level of experience you have, everyone is always friendly and welcoming. They are always encouraging you to strive to the next level, push you to your limits and overall, growing together.
Steve McLuckie
June 30, 2021.
Top notch!!